Our consultants look forward to seeing you.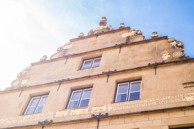 Bankhaus Lampe KG
Alter Markt 3
33602 Bielefeld
Branch manager
Susanne Müller
susanne.mueller [ät] bankhaus-lampe.de
Phone: +49 521 582-0
Fax: +49 521 582-1195
Here's how to find us:
Take the "Bielefeld Zentrum" junction in the direction of the city centre ("Stadtmitte"). Follow Detmolder Straße, continuing straight-ahead until you reach the district court ("Landgericht", on the right-hand side). Turn right at this set of traffic lights into Niederwall and continue in the direction of the town hall/theatre ("Rathaus/Stadttheater").
Turn left at the next set of traffic lights into the street Am Bach. Turn right after approx. 100 m before the "Welle Haus" multi-storey car park (still in Am Bach). Cross the next street and continue straight-ahead at a slight angle past the flower shop into Piggenstraße, which is very narrow. After approx. 50 m, turn right into the courtyard of Bankhaus Lampe KG where you can park.
Contact
Susanne Müller
susanne.mueller

[at]

bankhaus-lampe.de